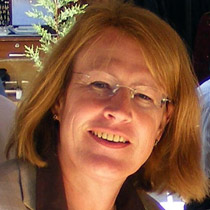 Nora Laubstein - Germany
President of the ANME
Contribution to the Videocongress on 20 June 2020:
Transcript of the Contribution:
First of all, thank you very much, Tomas and your assistant Marketa, for the huge amount of work you have done up until now. Even if Covid-19 now seems to be a little bit further away, we will enjoy the personal meeting next year. Thank you for your work.
I think this Platform is a good chance to build a public opportunity for people who are looking for more information and to be connected with each other; because, before I start, I have to recognize that the presentation of the national governments in this crisis of Covid has only one aim – they say there is nothing you can do when you have something with Covid or if you don't have, there is nothing you can do, you have to wait vaccination. Vaccination is the big thing in the European Union, in the WHO program. It is vaccination, vaccination, and this is one of those elephants Madan was talking about. We now have to realize that even the idea of forming good health has been blocked by the media. In this case we have to focus on the immune system. This is a global aim and I think it is an important one. With this Platform we can try to build this consciousness.
We have seen the blocking by media and governmentals who are not willing to make a change in their policy. They even ignore the demands of the WHO with a report about what's going on in research, what's going on in expert panels, what's going on in order for it to be taken on as a program in the government. So it is necessary to focus on the media, and the media has several parts.
ANME-Project "Working with the Media"
Our organization has created a project for our members and also for interest groups. We call it "Working with the Media". It is a summary of the experiences of Canadian, Spanish and also US organizations, which have the same problems with the media. I will now give you the input of this project.
It is a strategy paper developed by the ANME board members and it could be used as an open source, a guide, for ANME members as well as other national CAM interest groups to help start professional campaigning within the media according to national leads.
The success is based on successfully campaigning on a national level. This is very important. We have to accept that every national country has different laws and different circumstances.
The first step could be a round table event held by a national umbrella organization, which brings together several stakeholders of complementary, alternative, traditional and naturopathic areas, including patients, practitioners, biological manufacturers and institutions with a minimal common ground.
The second step could be the implementation of a united platform, for example, in Switzerland, the successful initiative "YES to Complementary Medicine".
Why is this urgently needed? Throughout the last several years, there has been a lack of attention regarding promoting the advantages and uses of CAM within the media. In fact, most attention to CAM within any media outlet – print, television and internet – has been less than positive with limited attention, at best, to the brief assets CAM brings to healing and health systems.
Dominance of Sceptics
CAM sceptics and critics dominate the public discussion already. In order to change this, it is crucial to develop a common strategy which includes continuing beneficial actions from the past, as well analysing and identifying any peripheral missteps. Accordingly, the project includes important discussion points and this could probably also be used for the CAM Congress' database.
First, the previous common weak areas are: research, evidence, science. Second: professional education. Third: cancer and other critical-illness actions for uncoordinated timelines.
Additionally, individual organizations often only advocate for their own specific interests. This can cause aggressive reactions, especially due to different points of view.
Learn from one another; it is a great support and benefit to learn from countries going through similar challenges and seeing positive results due to successful strategies. We understand that each country faces its own challenges and legislation, but knowing about these positive experiences helps guide future success.
The following recommendations have been made and now it is important to work on a national document in practice. Media-trained spokespersons can successfully navigate the media, professional PR agencies can do this. If it is economically feasible, hire a media specialist. Cost sharing with other associations can offset the total costs.
Collaborate with other partners in their health sector. Media documents should be created in the national language, using native terminology. Have approximately ten spokespersons/experts in relevant fields of science or medicine, and have one or two speak on behalf of each contributing organization and answering critical posts.
Identify one or two country-specific issues. Hire an expert to connect to key audiences. Encourage members to be in a greater contact with their association, especially to report or update the associations on community issues or relevant personal issues. Created a spreadsheet to track the positive/negative and identify each story and allies.
Create a video with statements and a letter of declaration. Include a VIP (very important person), which also means we need to find a VIP. This is the overall conclusion, which we will now break down into three areas.
Strategy for Social Media
The first area is a strategy for social media and this is becoming more and more important; we have to focus more on this path. Do not respond directly to the detractor; furthermore, sometimes a non-response is more beneficial for a pending subject matter, or even a delayed and diffused response (for example: after three days). Identify the key audiences – e.g. patients, professionals, governments. Post information about CAM professions, including who the people of CAM are, what the practices are, the achievements, the research etc. Only positive posts. Posts should be brief, limited to two phrases. Keep answers and responses short and to the point. If slander occurs, focus the posts toward the truth without directly responding to the allegations – and do not get into a discussion.
Strategy for Print Media
A different strategy is available for print media. In this case, use a ping-pong effect to create a letter/declaration directed to the government – it should be formed as a political paper, including research information, additional supportive documents to be included. Encourage and obtain signatures from other interest groups (for example in Europe), underpinned e.g. by an ANME support letter. We have done this very successfully in Latvia, Spain, Portugal and in Germany.
When creating a letter and a document directed to a newspaper or a journal, first analyse the journalist and reporter or publication and his/her/its habit and/or track-record. Are they pro? Are they against, or open to possibilities for CAM and its professionals? This is very important. Start a direct communication with the publication's editor and director. In this case, our experience is very clear.
Nowadays, in a lot of print newspapers, for example, there is an editor specialised only in science and then there is a general editor, a general director – they are two different people and the science person or science director has a different point of view than the director of the newspaper. This is important. Develop a series print productions about CAM practices.
Strategy for TV
The third point is a strategy for television. It is best not to have reporter teams in our workspaces or our home/environment. If this is unavoidable or for other reasons, of necessity, obtain the final control of the piece and review all content prior to public release. For round table discussions on TV: question and answer training. All talk is to focus on the positive aspects of CAM. This is the basis of our strategy.
Political Strategy
Next is an example for a policy strategy, which is very easy to find. It is necessary to define the objectives, to look what we need, what we already have, and the suggested timeline and actions.
I wish all the best to the Database and the CAM Congress. We have to realize that defining the terminology is a battle, it is a battlefield. When I see the programs within the European Union, they sound very nice. They speak about prevention, they speak about healthcare, they speak about well-being, but when you go into a specific context, they use this terminology for a different kind of thinking. They apply it on an economical idea; so, the 'growth of health' does not mean that a lot of people are happier in their lives and are healthier. No, it means that we have a big business, that we make a real economic growth of this. The next point is digital health.
Digital Health
Digital health is the next step – telematics et cetera. The current German presidency of the EU will bring this up to the top of the agenda, because the regulation of the digital revolution now is the thing which is on the top.
So I hope that with this Database and this Congress we can create an important impact for the future, for this intangible characteral heritage we have in this field. Thank you very much.
---
Nora Laubstein - Germany
President of ANME e.v.
Read more...
---
Recording of oral presentations by Nora Laubstein at the World Health Congress 2021 Prague:
Results of the pan-European ANME survey
Nosodes - wanted by patients, needed by practitioners
---
Here you can watch all recordings from the World Health Congress 2021 Prague 10th - 12th September 2021.
---
Recording from the videocongress on June 20, 2020: